Looking for new recipe books to give you fresh ideas for dinner? How about a homemade pasta maker?
Taste of Home
is having a BIG sale on their site selling things for only $5! Here are some of the items that I would I would love to get with this sale:
Everyday Slow Cooker & One Dish Recipes 2011
325 scrumptious recipes for your slow cooker, skillet or oven–it's like getting 3 cookbooks in one!
Meal-in-one convenience with lots of casseroles and one-dish meals
Regular Price: $24.99
Sale Price: $5.00
Pasta Maker
Make your own pasta right at home.
Regular Price: $49.95
Sale Price: $5.00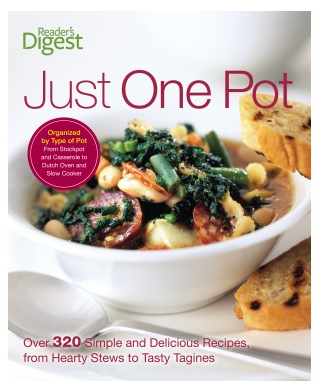 Just One Pot cookbook
This cookbook has more than 320 recipes, and as the name implies is cooked in one pot, so dinner is simple and easy. Yummy!
Regular Price: $16.95
Sale Price: $5.00
Comfort Food Diet Cookbook 2011
This is a great book for someone trying to cut calories while still eating traditional comfort foods. I know I would love it :).
Regular Price: $24.99
Sale Price: $5.00
The best part about this sale is you can stock up on a bunch of cookbooks and then give them as gifts throughout the year. Most women welcome a fresh set of recipes and you could cater the book you choose to their favorite things to make, whether slow cooker meals, desserts, or comfort foods. Word of caution, though: Perhaps avoid the "light" and "diet" books as gifts. You wouldn't want to imply that the recipient needs to lose weight, LOL :D.